Educational organisations
Ready for the world
Ready for change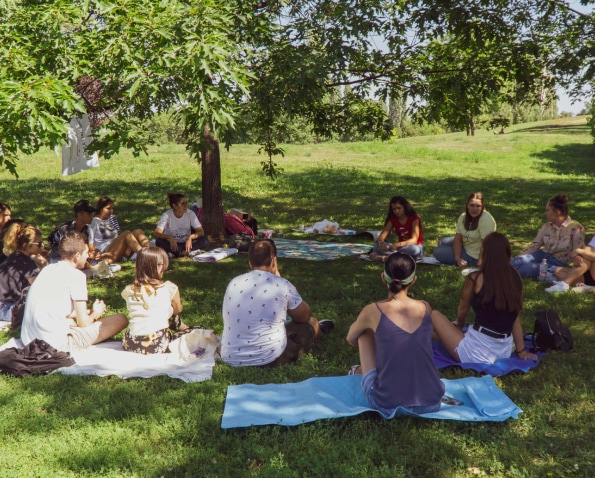 How does the program work?
The Duke of Edinburgh's International Award is a global structured non-formal learning programme that encourages young people to set personal goals and develop themselves and their communities in small steps. With the help of an experienced adult as their role model and mentor, they challenge themselves, discovering their purpose, passion and place in the world.
The Award builds key skills such as determination, perseverance, teamwork, self-discipline and organisation which are an important part of every young person's personal and professional fulfilment
The programme is available for:
Schools and universities
Nonprofit organisations
Business enterprises
Benefits of the Award
For your school or organisation
Prestige
You become part of the family of a prestigious international personal development programme for young people
Contribution to the community
You receive a methodology through which mentors, young people and their parents develop and contribute to the well-being of the community
Enrichment
You give young people in your organization the opportunity to enrich themselves in different areas of interest
Upgrading skills
You give your staff the opportunity to develop leadership and mentoring skills
Motivation
You gain a tool that can bridge the gap between teachers and students or motivate employees in your organization
Exchange of experience
An opportunity to share experiences and work on collaborative projects with other organisations that are part of the Award's international family (over 140 countries to date)
Recognition
Becoming part of a national initiative that is under the patronage of the Presidency of the Republic of Bulgaria
Teachers, who work directly with participants
Certification
Receive international certification as an Award Leader and become part of the prestigious international Award community
Communication
Have the opportunity and prerequisite for closer communication and contact with young people participating in the Award
Exchange of experience
Have the opportunity to exchange experiences and knowledge with Award leaders from all the countries where the Award is being delivered
Building contacts
Opportunity to create useful social contacts at national and international level
Satisfaction
Personal satisfaction and sense of fulfillment
Useful tool
A tool through which the more passive young people in the organisation or school can be motivated, as well as giving additional incentive and recognition to active young people
Useful skills
Acquire highly valued universal skills that enhance their success within the curriculum – negotiation skills, research, communication, problem solving, perseverance, teamwork
Development of your potential
They develop their potential and gain awareness of their strengths and weaknesses
Building contacts
Create new friendships and relationships with their peers as well as other generations to do something positive and constructive in their spare time
Confidence
Increase their self-confidence and self-esteem
Initiative
Participants take initiative and responsibility to achieve their personal goals and overcome their limitations by following their individual plan
Commitment
Engage actively with the community in which they live and make a real impact on positive social change through their personal contribution
Perspective
Increase their opportunities for professional and personal fulfilment
Recognition
young people are rewarded for their efforts with The Duke of Edinburgh's prestigious International Award certificate
Become part of a global network of schools and organisations
You need to follow 4 easy steps:
1. Form of interest
Filling in the interest form in as much detail as possible so that we can get acquainted with the activities of your school/organization
2. Meeting with us
First meeting with a representative of our team, the school principal and the team that will work on the program
3. Agreement
Signing a license agreement
4. Training
Participation in a training course for the application of the Award
Reviews
Volunteering, in my opinion, is a multivitamin for the soul. Everything you do in good faith expresses you even more than the profession you have or the school you study at. The good societies we want to belong to are those with people who support each other. Of all the types of support, I believe that the most rewarding is that of young people. We often think of children, the elderly, people with disabilities, and this is the minimum required, but it must be developed and supported by the aspiration upwards, the curiosity of youth, the desire to establish yourself and the muscular joy you experience from physical work. The award gives all this to our most promising people - the young people of Bulgaria, Europe and the world.

Award Leader

The best part of Leadership in the Award is the opportunity to work fully with young people. This helps the leader to be a better teacher, a better parent, a better partner, a better person. In addition, Leadership gives a sense of family - they call it international, but our national family is a cozy island of mutual support, trust and goodwill. This is exactly what gives us the opportunity for creativity and achievement with a smile, which I find invaluable. The achievements that leave us human are really important for young people and for our whole society.

Award Leader

Programs like the Award help more people grow up getting used to being a volunteer or learning something new is part of your life.

member of the Honorary Trust of the Award in Bulgaria; executive director of the BCause Foundation

I believe in the potential of every person. I'm sure it's in us and it's huge. The more we unlock it, the more we make us and the world better and richer in every way. The award is a quality tool that combines experiences, fun, friends. As a parent, I wish it to my children, as a teacher I would offer it to my students, and as an instructor I would encourage them to make an adventure trip. And if I were a young man, I would gladly get involved. It is very easy to decide to support an initiative that has so many benefits for so many people.

founder of the Award in Bulgaria

The award is one of the good examples of an initiative and program that, despite political changes, continues to be supported because it is something significant for young people in this changing world, changing education systems around the world.

founder of the Award in Bulgaria

For me, this is a brilliant program. It offers young people from all walks of life, from all backgrounds, a real opportunity to grow and learn, to develop resilience, initiative, teamwork skills, a sense of social responsibility because we live in a world and environment that are bigger than us, but we play our part in this context.

Ambassador of the United Kingdom

In fact, the educational institution is not just a place for learning and knowledge accumulation. We must all long ago realize how essential elements of social and economic life must be involved within this system. All forms of personal growth, social causes and participation in partial economic processes are extremely important for young people. Young people need extremely good preparation for the challenges of the modern world.

Principal of the Profesional School of Programming and Innovation in Burgas

The Award is a unique tool for encouraging activity among young people because it gives them the confidence that they can cope with the challenges. It helps them build key skills, which increases their competitiveness, confidence and creativity, develop empathy and become acquainted with volunteering, which is an opportunity to actively participate in changing relationships, environment and community. Support is important for every person at every stage of his life. Especially with young people, so that they can believe in themselves, in their own strengths and abilities. It helps them move forward, achieve good results and be inspiring.

Award Leader

The Award provides the necessary environment to develop the soft skills that we all need beyond the school building in real life. Each participant manages to develop in himself the skill of time management, perseverance and responsibility, which are valuable in any field of activity. Quite useful, of course, is the process of goal setting, which is one of the most difficult things to learn, but at the same time an extremely valuable skill for any successful person.

Award Leader

I believe that the Award should be accessible to more and more young people in Bulgaria and around the world, because the knowledge acquired in school needs the skills and experience that programs like the Award accumulate in young people, inspiring them to challenge themselves.

Principal of "Dimitar Blagoev" High School, Svishtov
Join the Award
Become part of a global network of schools and organizations in over 140 countries that offer their students the opportunity to participate in the Award and receive non-formal education worldwide. As a structured personal development program, the Award provides a balanced framework in which participants have the opportunity to develop their skills, volunteer and play sports.
Award ceremonies
Award ceremony for 62 Bulgarian students who achieved gold and silver levels in the Award
Bronze Award Ceremony at the Britanica park school
Already a Licensed operator?
As a licensed operator in the Award you have all the resources created by our team to facilitate the work of the leaders of your team.